Invite Ann Convery to Speak at Your Next Event.
As an international keynote speaker, Ann Convery has presented for a wide range of conferences and organizations, including:
Amgen
The Indus Entrepreneurs; TiE Global
Foro Internacionale de Dirección Comerciale y de Fuerza de Ventas
USC Marshall School of Business
American Society of Journalists and Authors
1800Dentist
FCM Travel Solutions
CharlesWinston.com
The following presentations can be conducted as a keynote presentation, half- or full-day seminars:
---
It's Not What You Say, It's What They Hear
Do you wish you could explain what you do so that people instantly "get" it? You can. Talk to the decision-maker, the Lizard Brain, in the language it understands. The people you're trying to influence will get your point immediately, and want to hear more. This casual, relaxed way to communicate not only brings immediate results in your introduction, but in every encounter thereafter. Ann delivers an eye-opening, powerful system that produces real-world results, online or off.
Discover 5 Key Steps to Long-Term Attraction in any Encounter:
The top 3 signals for capturing anyone's attention, in 8 seconds.
The Gap – the tool that makes you "priceless" to your market.
How to reach the decision-maker in anyone you talk to in 2 minutes or less.
The "5%" tool that produces immediate fascination in your target market.
The No. 1 way to increase your referral partners.
---
Closing the 21st Century Client
Do you wish you could sign more clients over the phone? Do you teach too much, or save the selling part until the end? In the 21st century, it's a buyer's market, and the sale is a whole different ballgame. Discover how to set up the call to relax both yourself and your prospective clients. Find out how to close up to twice the number of clients you are closing now, with no visible sales technique. Ann offers a unique take on the closing call, which produces measurable, real-world results. With Ann's system, you never have to feel nervous or uncertain in sales conversations again. In fact, you may even look forward to them.
Discover 5 Key Tools to Sign More Clients with Ease:
Let your prospect experience you as their chosen expert, before they sign. After they "test-drive" your service, signing them is far easier.
Deflect the "What is your fee?" question with ease, until you are ready to respond.
Master the art of buffering. Dissolve your prospect's anxiety so it does not hijack your call.
Find their key motive for buying, without which you cannot close the sale.
Discover and dis-arm the Deal-Stopper, the only objection that counts.
---
Raise Your "EQ" with Advanced Relationship Skills
Did you know that we evaluate everyone we meet in terms of warmth and competence? Guess which comes first? Warmth. Research tells us that people get more pleasure out of talking about themselves than they do from food or money. Engaging people on this level requires a strong EQ (emotional intelligence.) Ann reveals the skills high achievers use to raise the performance of everyone around them just by the way they communicate. In this interactive presentation, Ann shows how to engage the people you meet on both a professional and personal level, so you can form powerful relationships that enrich both you and your colleagues for years to come.
Discover 5 Keys to Build Powerful, High-Yield Relationships:
The #1 way to influence peers, superiors and subordinates
12 questions that guarantee a good conversation
4 non-verbal signals that elicit trust
The #1 way to shut down rapport
The secret that allows people to open up to you on the first encounter
---
Beyond Your Business Card:
Communicate Your Vision and Create Your Future
Beyond your business card, what do you stand for? What are you here to do? What does the future look like, to you? Ann demonstrates how you can elegantly communicate all this and more to your peers, clients and colleagues, and why that's important. Being clear about what you stand for and where you're going is the DNA of leadership. Forget pompous or lofty. Communicate your values and your vision in a relaxed, casual way. Place yourself in a powerful position to create the work and the environment that will bring you closer to the future you envision.
Discover 5 Keys to Communicate Vision, Values, Leadership and Power:
3 steps to communicate what you stand for in an elegant and comfortable way
6 teachable skills great leaders share
5 non-verbal signals that demonstrate power and trust
The #1 mistake that can isolate you from your peers, colleagues and clients
How communicating your values today can create the future you envision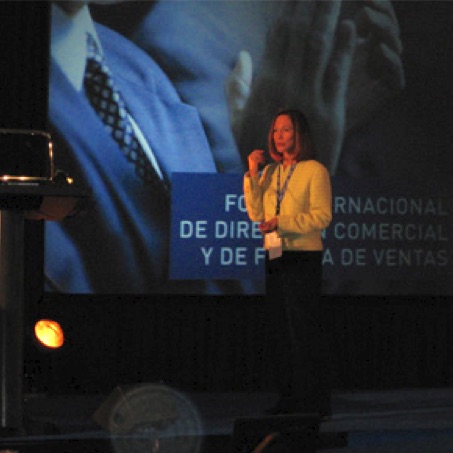 ---
---
For more information on booking Ann Convery to speak at your company or conference, please contact us to schedule a complimentary 15-minute telephone consultation.
---
Contact Us